Don't Just Take Our Word For It…
"I've left my job and now do property development full time. This has really changed my life. I choose the projects I want to work on. I do the things that interest me… I just love it!"
Adam B. – WA
"I have achieved the ability to live off property! My skills have allowed me to earn a 7-figure income. Results Mentoring has given me a new life. I'm free!"
Jason E. – QLD
"We were able to quit our jobs at age 28. Our portfolio is now over 100 units!"
Kevin & Daniella D. – VIC
Michelle G. from WA explains how RESULTS enabled her to wipe out $250K of debt, create a million dollar profit, and totally transform her life!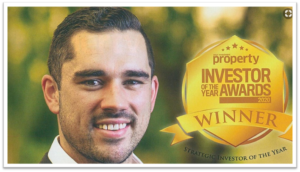 "Invest in yourself first. Good education and support from expert investors who are currently active in the market is absolutely priceless – especially if you have an experienced mentor who is doing the kinds of property deals you want to do.
I've taken my portfolio to new heights this year with Simon's help, by being a member of the Results Mentoring Program."
– Sam Gordon (NSW) – Your Investment Property "2020 Strategic Investor of the Year"
"After finishing the Results Mentoring course with Simon, I quit my job and all I do now is all kinds of property related stuff. Best thing I ever did."
– Andrew Vella (NSW)
"I feel I have learnt as much in 3 months as I did in the previous 3 years trying to teach myself. Thanks again!"
– Jamie D (NSW)

"$112K renovation profit in 6 months!"

"$340,000 profit from their first development!"

"$2.1M in property profits since joining Results!"

"Six-figure profit from a cosmetic renovation!"
"In the space of 5 years we've gone from small projects to multi-million dollar projects! We never envisaged we'd be at this level."
Anthea & Rohan – SA
Respected Australian property market analyst, John Lindeman, talks about Results Mentoring. "…a level of expertise, education, and experience that is unequalled…"
First-time investor Chris W. from VIC bought 2 houses for the price of one!
Kurt M. from VIC quit his job and is now a professional property developer doing multi-million dollar projects!

"We had to join Results Mentoring- It was absolutely necessary for us to continue our passion for property investing.
We needed the support, guidance, knowledge, motivation and felt we needed to rub shoulders with the best in the business in order for us to grow in our success.
My first deal since joining Results made us $108,000 profit in 12 weeks. Since then we have gone on to do many more deals, with the support of my Results mentor.
My mentor has simply been outstanding in many ways. His at-hand support, knowledge, professionalism, mannerism and understanding has been exceptional and we thank him greatly for this.
We have run many deals via Simon and he has been able to tackle and overcome any hurdle we have placed in front of him or he has placed in front of us, with an objective point of view to cover all angles.
Also, a special mention to the rest of the team for all their involvement. We appreciated the amount of work that would go into running a program like this. So well done and thank you.
Looking forward to continuing with more great deals and our property investing path.
We feel the Results Mentoring Program has been priceless, and for us it is a great form of insurance."
– Matt & Tiere Firmstone (NSW)
"I have really enjoyed and am grateful for having been part of the program. I have no doubt that I wouldn't be in the position I am now without it.
Results Mentoring have created a large and supportive active network of investors. And the mentors not only have the knowledge, but seem to genuinely care.
Thank you and the team for offering the best mentoring program in Australia (and probably the world) – please keep it up!"
– Peter A. (SA)
"Simon helped me identify the perfect time to sell a property, resulting in a profit of $140,000 in 12 months for minimal input from me.
I wouldn't do anything without the deal analysis templates. I also take my template into meetings with real estate agents and I'm always taken seriously because of it.
The webinar archives offer a wealth of knowledge across all aspects of property investing – Invaluable!
I've joint-ventured with another member and we were able to put together a great deal on an overseas property. This would never have happened without Results Mentoring.
The Results mentors encourage, support, inspire and educate me. I will be the best I can be personally and as an investor because of their input, and this allows me to educate and inspire my children to greatness."
– Jodie N. (VIC)
"I can't say enough about how great it is. I was going to walk away from a deal and Brendan made me see how good the deal was – and it has been!
Thanks to Brendan and all the mentors – you have given me the confidence to take action and the resources to analyse deals."
– Jason Shanks (NSW)

"Thanks to Simon Buckingham, Brendan Kelly and the team, we have been able to achieve our goals. We went from zero cashflow to being financially free at age 28!
We now have the confidence to make property investing decisions in any market conditions, have a seemingly 'bottomless' wealth of information, expertise and resources; have numerous opportunities to network with other like-minded people; and have been successful in other strategies such as property development and overseas investing.
The greatest value we have found in the program is having the privilege of running through ideas and potential deals with our mentor – someone we can trust, an expert in property investing and someone who wants us to succeed."
– Kevin & Daniella Dhillon (VIC)
"Results Mentoring has been an amazing journey and a true turning point in my life. Not only have I regained complete control of my personal finances and erased all consumer debt, but I have learned to set (and then achieve) goals that motivate and truly speak to me.
I purchased 2 cashflow positive properties and embarked on a 4 lot sub-division and build project expecting to yield around $100K profit inside 12 months. These achievements would never have been possible without the skills and techniques that I learned through the Results program.
The Results Mentoring Program has been truly life changing for me. I now have the skills, the knowledge and the networks to achieve my investing goals and more importantly, I can see a clear and achievable path to financial freedom. I would absolutely recommend the program to anyone looking to improve their financial and investing IQ – and from a money management point of view, the course paid for itself within months."
– Brad B. (NSW)
"I've resigned from my job and am now a full time investor/developer. Life is good, I don't miss my old work! My mindset has shifted considerably on what is possible and I now just look at how I can make things happen.
I remember you guys saying that if I get right into this, my circle of associates will change – and it has! I now seek out and associate with like-minded 'can-do' people. I'd never have believed when I sent you that dream document some time ago about what I wanted for my family, that I would have achieved nearly everything in a few months!"
– Jason C. (NSW)
"The 1-on-1 mentoring is the most valuable component of the program. To be able to ask specific questions about deals and any aspect of my investing really fast tracked my investment success.
The guidance provided around structuring an offer led to a quick $21k profit on a 'contract assignment' reno deal in just 3 months."
– Amanda McEwin (SA)
"The knowledge and experience of the mentors is priceless. To have access to all of them is great – someone will always know how to help you and answer your questions!"
– Jacinda Jones (VIC)
"Thanks to Results we're now successful property developers!"
Axel P. – NSW
"…now all I do is property investing and developing. It's a great feeling!"
Zoltan C. – VIC
"The Results mentors helped me to structure an offer on a property that saved me an extra $10,000 and got me a long settlement on the deal too."
– Andrew Finnie (NSW)
"I would never have achieved the results I have without these guys! Brendan is so supportive – he just makes you feel anything is possible.
I can't recommend the team highly enough – they never make you feel any question is too silly to ask and are always 100% committed to us. The Results Mentoring team rocks!"
– Jane Lees (NSW)
"Lynn has been a fantastic mentor. She is always available when I need encouraging, help or to be pointed in the right direction. I have learnt so much over the past few years and will continue to be involved with Results for years to come. The combination of mentoring, networking and resources is well worth the investment to be part of it."
– Wendy Gatsby (NSW)
"I am pleased to advise that since joining as an 'early-bird' 2 weeks ago, that the course has already paid for itself! Following one conversation with Results mentor Lynn and a gem of wisdom she offered, mixed with actioning the webinar items I have found that the heavily negatively geared property that I have been holding for 3 years is showing strong potential as a cosmetic renovation project."
– Amanda Obara (QLD)
"You guys have put together an amazing Program. The information, follow up, templates and folder documentation is invaluable and relevant for property investing across the board and not just for the current times. The folder information alone is worth every cent of the Program cost.
I have come out of this Program with a far greater knowledge base, confidence to investigate and speak up if I am not happy with something, and a great result to a deal that I would have given up on if not for your help and support.
Best of all I have come to know what thoroughly decent guys you are and thank you all for a very enlightening year."
– Judith Ottosen (WA)
"I would never have had the confidence to complete the large deals we have done without the support of my Results mentor. Thank you!"
– Tracey Bell (TAS)
"We identified a number of suburbs that we thought had good short term growth potential in the Newcastle Region, however we realised we needed help to narrow our focus. Using the training, templates and the mentoring support provided by Results Mentoring we identified and purchased a property with significant potential for a buy-renovate-sell strategy.
Carmel purchased the property at the end of May 2013, and project managed the project based on the learnings from the Results Program. The property, at the time of purchase, was projected to be valued at $410,000 to $440,000 (post renovation) however the house was sold in December 2013 for $515,000. This extra $75,000+ growth can be attributed to two factors:
(1) the short term market growth forecast… which was spot on; and
(2) the decision to renovate the property to a standard to attract the market segment that would pay above the median (based on our learnings through Results)."
– Ian Pike and Carmel Gatt (NSW)
"I've ALREADY got my money's worth from Results Mentoring in just 2 short months. The people I have met and the friendships I've formed are priceless. If I happened to walk away without even speaking to my Mentors once, I still would have got value for money. I am so proud and touched to be part of this Program because of the people running it, and the people in it."
– Keira Valentine (NSW)
"The opportunity to be in the Results Mentoring Program has given me much more than I anticipated. My property portfolio is still growing, and because of the profits I have been able to claim my financial freedom to be able to focus on developing other interests.
The opportunity to mingle with like-minded people and network is awesome! The greatest benefit of all is the way the system is set up. You work through the course mostly in your own time and at your own pace. I highly recommend this program for anyone wanting to learn flexible strategies relevant to an ever-changing market and of course for the people you meet!"
– Katie Joy (WA)