Discover The Property Investing Secrets That Are Making Ordinary Aussies Rich!
"Book of the Month" – Money Magazine Dec 2010/Jan 2011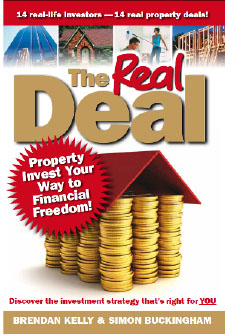 Are you looking for a path to financial freedom so that you can spend your time doing what you want to do?
For many savvy Australians, property investing has lead to exactly that. They have found an investing method suited to their own circumstances and turned a property dream into an income stream – and, in some cases, an early retirement!
So how can you achieve the same results, even if you've never invested in property before?
The Real Deal is the only real estate book that:
Takes you through the full spectrum of investment methods – from negative & positive gearing to renovation, subdivision, commercial property and property development, and everything in between
Shares the experiences of 14 real-life, everyday investors who have created wealth using these methods – See how they work in the real world!
Teaches you how to set goals and provides the tools to stay motivated to achieve them
Helps you assess the best investment approach for you in terms of time, money, level of difficulty and effort
Actually gets you on the road to financial freedom – fast.
You'll learn how to make deals for quick profit, deals that you can work on yourself and deals that you can pay others to look after for you. The options are limited only by your own creativity!